Laser applications
Matoula clinic | skin & hair medical center
Matoulaclinic has state-of-the-art laser machines, selected with strict scientific criteria.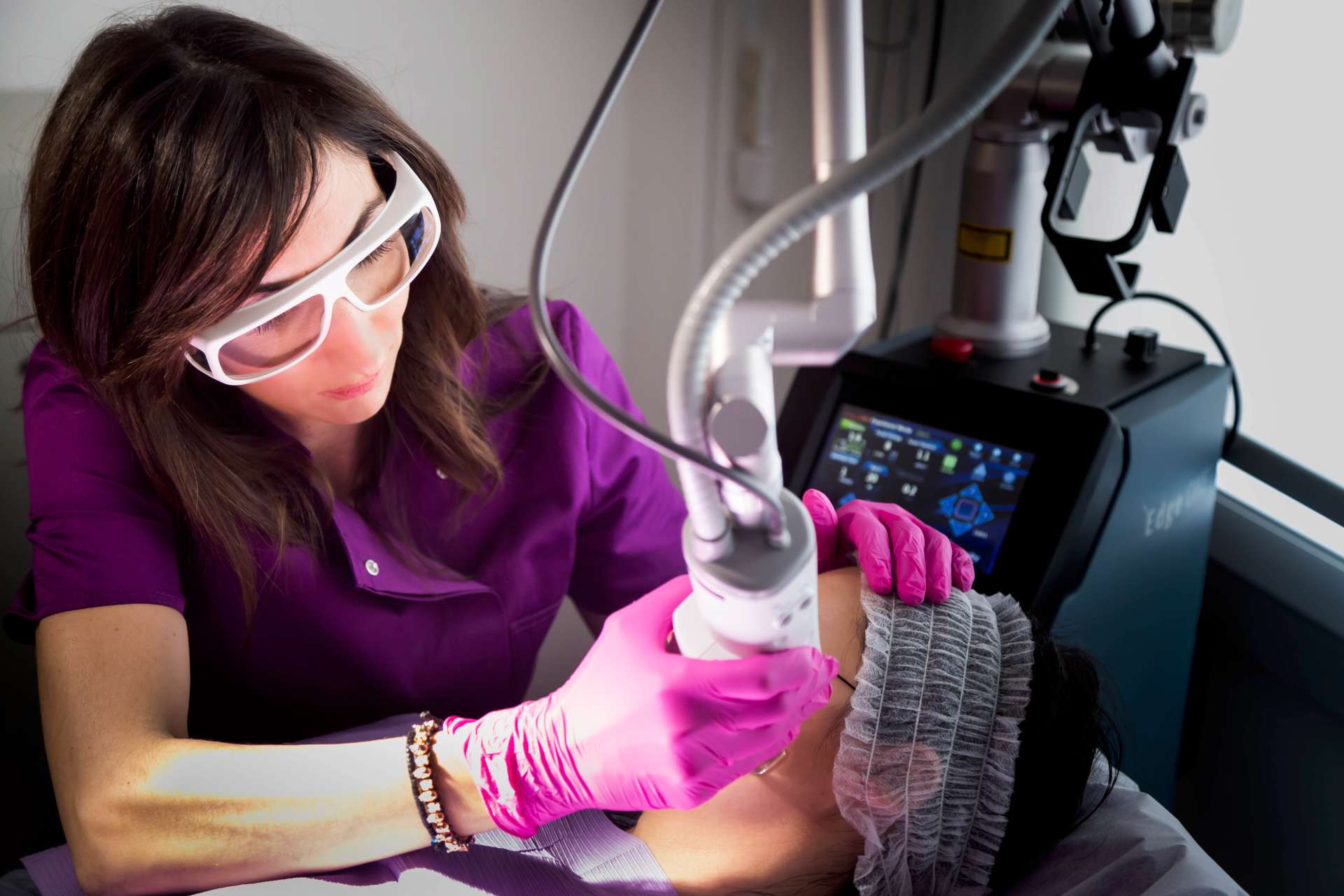 Applications Laser | Matoula clinic
Fractional CO2 laser
Η δράση του Fractional CO2 laser στην επιφάνεια της επιδερμίδας έχει ως αποτέλεσμα τη βελτίωση της υφής του δέρματος, τη μείωση των δυσχρωμιών καθώς και τη λείανση των ρυτίδων και ουλών.
Όσον αφορά τη δράση του laser στο χόριο, όπου διεγείρει την παραγωγή και ανάπλαση του κολλαγόνου, εκεί βελτιώνει τις ουλές, μειώνει τις ρυτίδες και προάγει τη σύσφιξη δημιουργώντας παχύτερο και καλύτερα δομημένο κολλαγόνο.
treatment with CO2 Fractional laser
Applications Laser | Matoula clinic
Fractional laser CO2 treatment is recommended in:
Acne scars
Wrinkles
Diffuse discolorations
Post-traumatic – Postoperative scars (hypertrophic – atrophic)
Stretch marks / Streaks
Aged and dull skin
How often is the treatment repeated?
For a better aesthetic result, the treatment can be repeated every one to one and a half months and in total up to 3-4 sessions are recommended, depending on the case. In any case, the device has multiple settings and the treatment is personalized, following specialized treatment protocols, depending on the needs of each patient.
How long does recovery last after a Fractional treatment and what are the symptoms?
Usually the duration of recovery is about 5-15 days and depends, like the severity of the symptoms, on the intensity of treatment and the subjective reaction of the patient. Immediately after fractional treatment, the patient will feel a burning sensation, in the area where the treatment was applied, which will last for about an hour.
The skin will show redness and a slight swelling, which subsides the next day while the redness will subside in 3-4 days, when the peeling begins for about 4-5 days. During this time, the skin should be protected from ultraviolet radiation with sunscreen and it is allowed to be covered with make -up until full recovery.
Treatment of benign skin lesions with surgical co2 laser
Matoula clinic | Laser Applications
In our clinic we have the EdgeONE CO2 laser, an innovative surgical laser, an ideal tool for a variety of dermatological procedures avoiding incisions and bleeding and above all ensuring an excellent aesthetic result. It is used to cauterize various benign skin lesions, such as:
Papillomas
Seborrheic Hyperkeratoses
Warts
\Warts
Soft Fibroids
Sebaceous Hyperplasias\
Fistulas
Types
Hemangiomas
Η χειρουργική επέμβαση με laser CO2 πραγματοποιείται στο ιατρείο υπό τοπική αναισθησία.
Η μέθοδος αυτή απαιτεί εξειδικευμένη εκπαίδευση και μειώνει το χρόνο αποθεραπείας σε 7-10 μέρες, ενώ πλεονεκτεί έναντι των παλαιών συμβατικών μεθόδων όσον αφορά την ακρίβεια των χειρισμών του ιατρού, με την οποία καταστρέφει τη βλάβη χωρίς να πλήττει το παρακείμενο υγιές δέρμα.