Theoni Th. Μatoula Dermatologist
Dermatologist – Venereologist for adults & children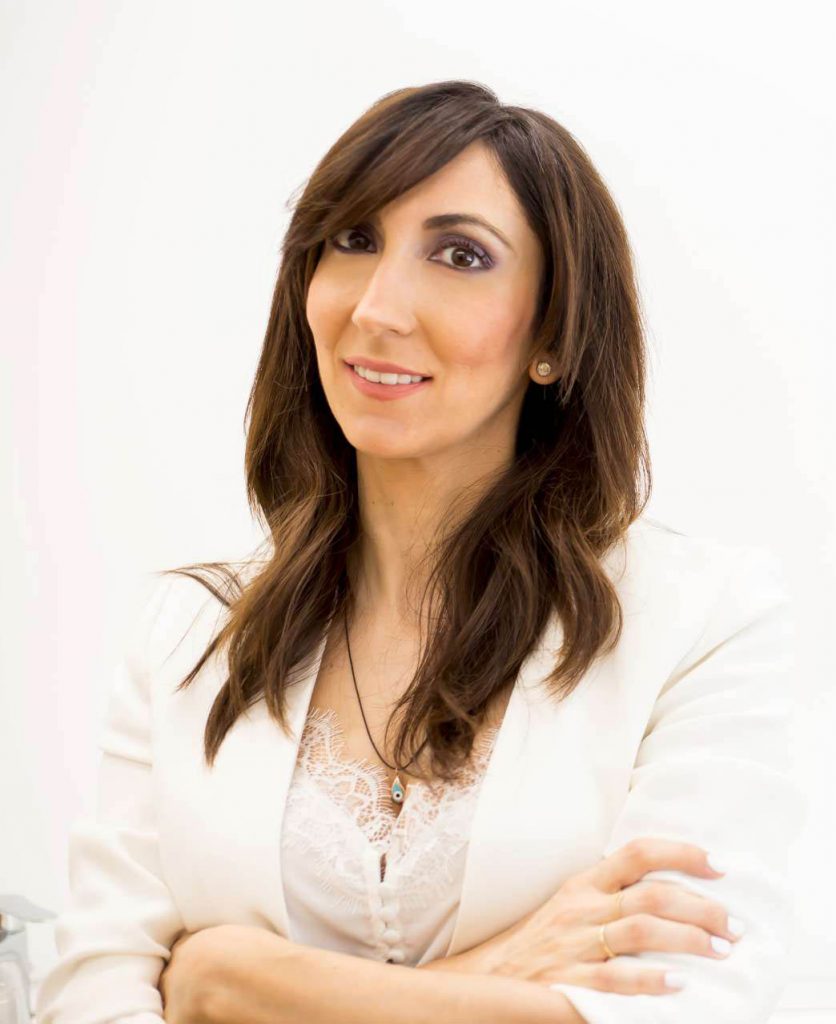 Theoni Th. Matoula was the first in Greece to be admitted to the Medical Department of the Military School of Officer Corps (SSAS) in Thessaloniki in 2000 and was sworn in to the Medical School of the Aristotle University of Thessaloniki in 2006 with a grade of "Very Good". She then trained for a year at the 251st Air General Hospital as well as the Air Medical Center. She served as a medical unit in the 124th Basic Training Wing in Tripoli for two years and then served as Chief of Health Services at the 128th SETI in Kavouri Attica for one year.
In 2010, she began her training as a specialist in the 2nd Pathology Clinic of the 251 General Air Hospital and after a year she continued her training at the most specialized center for dermatological and venereological diseases, the "Andreas Syggros" Hospital, where she remained until 2016 as specialist dermatologist. She retrained at the Clinical Research Center for Hair and Skin Diseases and the Pediatric Dermatology Department of the Charite University Hospital in Berlin, Germany. At the same time, she completed her postgraduate studies in ¨ International Medicine and Health Crisis Management ¨ of the School of Medicine of the National and Kapodistrian University of Athens.
As part of a scholarship from the Hellenic Dermatology and Venereology Society, she retrained in the largest dermato-oncology center in Europe, at the University Hospital of Essen, Germany (Universitaetsklinikum Essen) in skin cancer and its prevention. Since May 2016 she holds the position of Curator of the Dermatology Clinic of the 251 General Aviation Hospital.
Doctor Theoni Th. Matoula has also been trained in trichoscopy at a seminar of the European Dermatology and Venereology Society as well as in important areas of Aesthetic dermatology, such as Laser applications and mesotherapy. She specializes in antiaging treatments and injectable techniques using hyaluronic acid and botulinum toxin in London, at the Derma Medical Training Academy. She participates every year in closed training programs in new techniques and is also a certified dermatologist for the application of APTOS threads following her training by Dr Irina Poleva, certified Dermatologist and aesthetic medicine Expert, certified trainer of the APTOS company.
Furthermore, in addition to her many years of training and professional experience, the doctor has numerous written and educational work, participation in clinical research studies on acne, psoriasis and psoriatic onychomycosis, while she has been a speaker at many conferences both in Greece and abroad . Finally, she is a member of the Hellenic Dermatology and Venereology Society (EDAE), the Hellenic Society of Dermatosurgery (E.E.D.), the European Academy of Dermatology and Venereology (EADV), the Hellenic Society of Dermatology (HDS), the European Hair Research Society (EHRS).